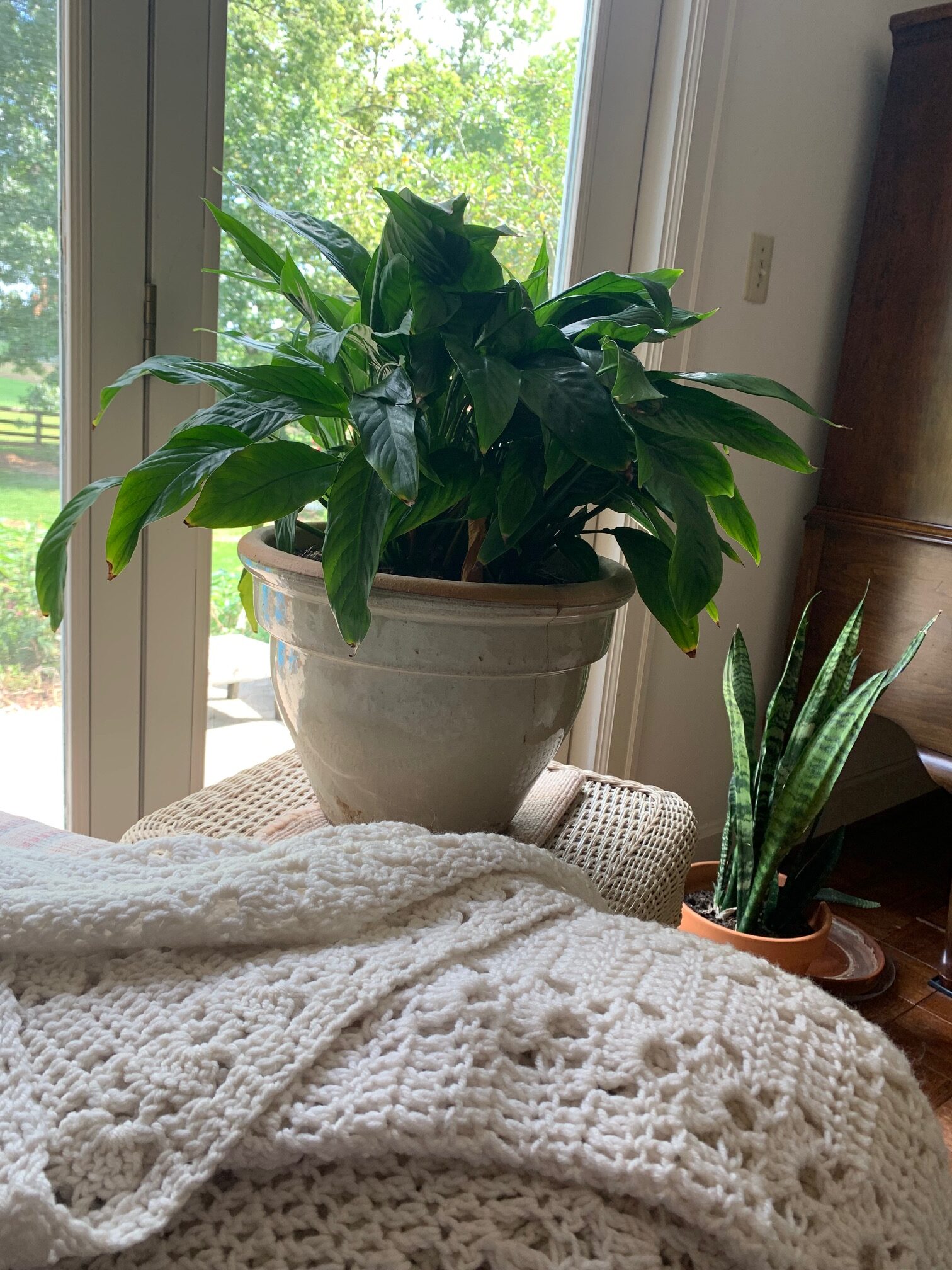 August has always been a significant month in my life. I was born in August, married in August, had my first child in August, always started school in August, began law school in August, moved to New Jersey in August, began a new law school in August. Yes, August is, indeed, just that – "august" in my life.
A friend mentioned yesterday that she supposed I "pondered" a bit before I actually begin writing. (That was said at the church we've attended – since – you guessed it – August – 16 years ago) To say I ponder "a bit" is an understatement. I over-ponder. Sometimes I think I'd be much more productive without so much pondering.

But on this August day, I can say I've pondered my way to this blog for a long while. Let's say – a 40+ year pondering.
Forty years ago my (then future) husband and I began working together as legislative interns. I graduated college 40 years ago. We became engaged 40 years ago.
Take notice of the plant that is pictured – I have had this plant for 40 years! Again, for 40 years! I realized earlier this year -as I was trimming it and repotting it into fresh soil – that it has faithfully and loyally been with me through all of my pivotal moments – in August – and in every other month – for – again – the past 40 years! It has been "with" me longer than any other living thing or person in my life. I have not yet been married 40 years. I don't have a 40 year old child. I didn't live with my parents 40 years. Yet, this little plant and I have been "roommates" for 40+ years!
In many ways, this plant represents my life over the past 40 years. It has had moments of vibrant greening and beautiful "peaceful" blooming. It is a peace lily after all. It has looked ragged, withered and worn. It's been eaten a bit by a pet cat (not ours). It has drooped both from overwatering and underwatering. It has been in shade and in sunlight. It has been in hot temperatures and cold temperatures. It has had to be moved – many miles or a few feet. It has lived in a room alone. It has been in a room filled with people. It has been trimmed, repotted, fertilized, watered, pulled apart and turned. It has had old soil, new soil, depleted soil, fresh soil. It has been cut, pruned and plucked. Yet, here it is – 40 years later – green and growing. It wasn't even a baby plant when I got it. It already had a few seasons behind it.
Why do you think my green "friend" has withstood our life together? Because it has always been firmly rooted. Whatever condition its soil, water level, leaf circumstance – in bloom and out of bloom – its roots have lived on. Sometimes clinging to its soil. Sometimes living with ease. But, generally holding in and on to continue life in whatever season is occurring.
Last week I got to thinking ("pondering") about an apple tree we have in our yard. Our little tree appears to be having a rough year. It has already lost its leaves and has no fruit; apparently the result of either a late frost or disease. We will hopefully have the opportunity to treat it early and often next year to get it back on its fruitful track!
As I was thinking about our apple tree – and other trees – I realized a tree never, ever moves from its initial "spot." Unless it has been cultivated for replanting – and then it is usually only moved once or twice before it settles into its space for the remainder of its life. Once "settled in" a tree puts down roots. Deep and long and wide its roots grow – firmly claiming its singular place in all the earth. And it is from that unique, special place that it provides shade; a potential home for birds and animals; a beautiful display of leaves, blooms, blossoms, branches and – if applicable – fruit! It withstands changes in seasons, temperatures, climate, environment, "good" years and "bad" years. It can endure times of drought and times of flood. It stands strong under sun and clouds, moon and stars, eclipses and rainbows. It can do all of this – from its one special spot – because it is firmly, safely, strongly, securely rooted. It can do this, until it meets its final day –  with its roots hidden deep from sight, yet nurturing the entire tree from deep within creation.
Like our little apple tree, I've basically lived, worked, learned, taught, gardened, cooked, cleaned – been a wife, mother, friend – you name it – on this little acre for nearly 30 of the past 40 years. Sometimes when I really think about that I wonder how much my life could really count for. I have, after all, stuck rather close to home for the pre-ponder-ance of that time.
However, like that apple tree and other trees, I – from my little "spot" where I am planted and rooted –  can provide similar results! Fruit. Encouragement. Shade. Protection. Joy. A home. I can withstand much – lean times, fruitful times, dry times, windy times, harvest times.
Now, back to August. Sixteen years ago today, something unexpected occurred in the life of our family. My husband's job was immediately done away with. His position not just "terminated," but (without trying to be too dramatic) completely "eradicated." Poof! Gone! A reorganization did away with his entire department. I'll let you guess how that played with three young daughters, a stay-at-home mom, no severance, etc.
Yet, last year on our anniversary (in August) when my husband asked me what I considered the highlight of our marriage (we are now heading into year 40!) – I, without hesitation, and making sure the first stated highlights were our marriage itself and the birth of our girls, said –  "the day you lost your job!"
A great deal of "life" has happened since that August afternoon 16 years ago. I'm still on my little acre. I still have my friendly peace lily. I've not accomplished anything extraordinary. I certainly haven't moved mountains – or moved at all (not counting all the times we've moved our children in and out of college, and apartments and houses). I'm still here. But "here" is where I am rooted. Here is where I have grown. Here is where I've been trimmed and shaped, pruned and repotted. Here is where I've lived many of the seasons of my life. Here is where I've seen the faithfulness of a God who created me, loves me, provides for me, guides me, nourishes me and grows me.
And now I get the blessing of encouraging others who are coming behind me and experiencing the various seasons and growing phases of their own lives.
Whether it's the wonder of an age-old plant, a grand old tree, or a life ordained and created for a unique purpose (which every life is) – a life firmly rooted will withstand much. "Good" days and "Bad" days will simply resolve into "life" days.
And "life" days – especially those in August – are truly worth celebrating.
Thought to Ponder: 
In my life, and hopefully in yours, here is what it means to be "firmly rooted!" – – –
"So then, just as you received Christ Jesus as Lord, continue to live your lives in him, rooted and built up in him, strengthened in the faith as you were taught, and overflowing with thankfulness." 
Colossians 2:6-7
"For this reason I kneel before the Father, from whom every family in heaven and on earth derives its name. I pray that out of his glorious riches he may strengthen you with power through his Spirit in your inner being, so that Christ may dwell in your hearts through faith. And I pray that you, being rooted and established in love, may have power, together with all the Lord's holy people, to grasp how wide and long and high and deep is the love of Christ, and to know this love that surpasses knowledge—that you may be filled to the measure of all the fullness of God.
 Now to him who is able to do immeasurably more than all we ask or imagine, according to his power that is at work within us, to him be glory in the church and in Christ Jesus throughout all generations, for ever and ever! Amen."
Ephesians 3:16-21
"Blessed is the one
    who does not walk in step with the wicked
or stand in the way that sinners take
    or sit in the company of mockers,
 but whose delight is in the law of the Lord,
    and who meditates on his law day and night.
That person is like a tree planted by streams of water,
    which yields its fruit in season
and whose leaf does not wither—
    whatever they do prospers."
Psalm 1:1-3