While I'm certainly a "ponderer", it is strange to ponder about me – (I'm really good at pondering about others). What am I about? Hopefully, I am "about" my Father's business. That is, I seek to love, serve, obey and glorify the Lord Jesus Christ. In the best of my moments – all else, thereafter, falls together well . In the worst, things just fall.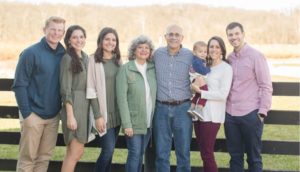 I've been blessed beyond measure, challenged by new adventures along the way, and introduced to a canyon-wide variety of people, places and things.
I am mesmerized by shiny, sparkly prisms.  Their multifaceted, colorful nature reflects my life (and yours).  I've been blessed beyond measure, challenged by new adventures along the way, and introduced to a canyon-wide variety of people, places and things.
When asked, I've described my life's unforeseen journey as beginning in a small, eastern Kentucky town where everyone was basically the "same" – white, Anglo-Saxon and Protestant.
Before I knew It – –  I was married to a wonderful, hard-working young man – who was Cuban-born, I was working for a greatly respected, predominately Jewish law firm, and I was experiencing the oddity of being the only white person on the bus to and from school in Newark, New Jersey.
I didn't know an Italian name from a Polish name from a Jewish name from a Hispanic name. I had to quickly adjust my "singular" view of my surroundings – small town, small college, rolling hills – where everyone knew me or someone in my family – to the multifaceted life of the New York metropolitan area – where I could easily blend in – that is, until I opened my mouth and my southern accent slipped out.
Thirty-seven years later, I'm still married to that wonderful, hard-working man – we are back in Kentucky – and I've had the overwhelming delight for the past 29, 25 and 22 years to be the momma to three absolutely fascinating young women. We've added a couple of godly sons-in-law and an absolutely delightful grandson. I've had the opportunity to stay at home with them for 25 years – serving, working, learning, succeeding and failing at an enormous number of endeavors – be they at home, in the garden, in the kitchen, in my church, in the public schools, in our businesses and in our community. And all the while I've had the pleasure, the freedom and the luxury of being able to observe, to think – – – to ponder. The people, the places, the circumstances, the situations, the effects, the challenges, the joys, the sorrows – all have created fodder for my thoughts.
So, in a nutshell (actually, maybe a bit larger coconut shell) and in the simple manner of "Doctor, Lawyer, Indian Chief" – here is a little summary (in no particular order) "about me":
Wife, Mother, Mother-in-Law, Daughter, Sister, Aunt, Daughter-in-Law, Sister-in-Law, Cook, Gardener, Lawyer, English and Government Major, Small Business Owner, Sunday School Teacher, Board Member, Friend, Mentor, Piano Player, Housekeeper, Encourager, Volunteer, Citizen (of two entirely different places) Reader, Lover of God's Word, Small Group Hostess, Teacher, Speaker, Cook (again), Cursive Writer, Curly-Headed, Red Lipstick Wearer, Coffee Drinker, Beulah Beach Devotee, Family Camp Believer, Music Lover and blessed Momma of two beautiful music lovers (and teachers), Basketball Enthusiast and blessed Momma of one beautiful basketball player, Beneficiary of Grace, Recipient of Forgiveness and Mercy, Cook (did I mention that already?) Proponent, Grand Inquisitor, Advocate, Fascinator of sparkly things, Aficionado of the color Coral Orange, Appreciator of the wonder of Flowers and other growing things (especially Irises) and lastly – but most certainly, firstly – Lover of my Lord and Savior Jesus Christ. I strive to write – but mostly – simply to ponder . . . . . . . .
And, finally, my favorite word in the English language: "Se
rendipity". Look it up – and you'll see why.
Though, my life's "unexpected pleasures", turns and encounters, have come – – not simply by chance – – but by the gracious ordaining of a God who made me and loves me.