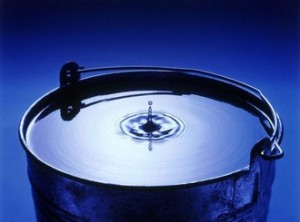 When the tornadoes ravaged parts of Kentucky and other areas in early December, I got online to donate some money to a few organizations in an attempt to quickly provide what little help and hope we could. As I clicked through, I kept thinking – "This is just a drop in the bucket. What real help could these little bits possibly be in the face of such mass devastation?"

Since then, I've thought a great deal about "drops in the bucket."
As we turn from one year to the next, I wanted to ponder a moment – "What can a drop in the bucket really ever accomplish?"
Well . . . there can never be a full to overflowing bucket without the very first drop!
We just simply have to begin – start with that first tiny little drop of:
Kindness! Yes, a little drop of kindness in someone's day can make all the difference. I believe kindness is absolutely UNDERrated! A kind word, deed, thought, gift, service, text, call, note or remembrance  – any bit of kindness can begin to fill someone's dry, empty bucket. Kindness need not cost a thing – except a thought and then an action. If we each take a mere moment to deliver a dose of kindness each day to someone we know – or even someone we don't know – those doses can quickly become drops that fill a barren heart.
Prayer! Prayer, in accordance with scripture, has the power to storm the gates of heaven. A simple prayer for someone, whether that someone is in great need, or simply crosses your mind, holds the potential to deliver a bucket-full of response in accordance with God's perfect will. We may think any prayer we offer is but a drip in a vast ocean. Yet, that drip reaches Almighty God – the One who created and holds the oceans. He can certainly take your drip, your simple "drop in the bucket" and do more than we could ever ask or imagine. We are simply called to begin. To pray without ceasing. Like a dripping faucet, those dripping prayers will eventually fill a bucket to full and overflowing! Just begin!
Generosity! If we each were to give as we are able, and as we are moved to give, our collective giving would keep buckets everywhere full! Yes, anything I can give monetarily is but a drop in the bucket of the funds required to accomplish much of anything. Whether it is to a sick friend; a family whose main breadwinner has lost his or her job; a destructive weather event; the hopeless, homeless or helpless; a ministry; a school; yes, even the needs raised in a pandemic – we can probably find someone or some organization that has a way we can contribute. Whether it is a dollar, a loaf of bread, a blanket, a book, and – don't forget – a kindness or a prayer – the very first one is the first drop. If a million people give a dollar – that is one million dollars! That's a rather full bucket!  If one person doesn't give – that is one dollar less than a million. Every dollar, every kindness, every prayer, every act of generosity can add up to overflowing bucket upon overflowing bucket.
I can name other "things" that may seem like mere drops in the bucket but can ease a dry soul, water a thirsty heart, soothe a weary mind.
Just begin! And continue! Drops gather quicker than we may ever realize and soon we will have an overflowing bucket of –
Joy!
Love!
Peace!
Thoughtfulness!
Gratefulness!
Anticipation!
Expectation!
Strength!
Forgiveness!
Conversation!
Laughter!
Appreciation!
Hope!
As we turn our outlook and plans, our energies and purposes to another year – think about those little drops you can make in the buckets of the lives of others. And just begin dripping! It's the only way to get those "just" drops in those empty buckets!
"All this is for your benefit, so that the grace that is reaching more and more people may cause thanksgiving to overflow to the glory of God."
2 Corinthians 4:15